Chemguide: Support for CIE A level Chemistry
Learning outcome 35: Polymerisation
35.1: Condensation polymerisation
Learning outcomes 35.1.3 and 35.1.4
These statements are all about the relationships between the structures of monomers and the polymers they form in condensation polymerisation. You must expect that the majority of questions relating to these statements will contain examples that you haven't thought about before.
Before you go on, you should find and read the statements in your copy of the syllabus.
Statement 35.1.3
This statement asks you to be able to draw the repeating unit in a condensation polymer from given monomers.
This has all been covered in statements 35.1.1 and 35.1.2. There are enough examples on these various pages to show how you get from the monomers of a condensation polymer to the structure of the polymer.
Statement 35.1.4
This is about identifying the monomers which make up a given polymer. In principle, this shouldn't be any more difficult than reversing what you have done above. But, in fact, it can be quite scary, especially if you are given a really complicated looking structure.
At the time of writing the scariest question involving this was June 2008 Paper 4 Question 7. I am going to look at similar examples to this, but leave you that question for practice.
Example 1
What sort of polymer is this, and what are the monomers?
Remember that this is the repeating unit. The chain will continue to the right and to the left in the same pattern.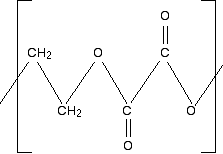 First of all, what sort of polymer is this? The presence of oxygens in the chain means that it is a condensation polymer, and you should also see the presence of ester links.
So break the polymer up across the ester links into alcohol groups and either carboxylic acid groups or acyl chloride groups. That's what will have combined to make the polyester.
If the question doesn't give you any clues about whether to write the monomer as a carboxylic acid or an acyl chloride, then you can choose whichever you like. The mark scheme will allow for either possibility.
Break up the ester groups between the carbon-oxygen double bond and the single-bonded oxygen. That way you can most easily see where the alcohol groups are.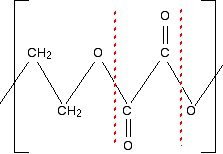 What are your two monomers?
Remember that the left-hand carbon will be connected to an oxygen. (Think of drawing another repeating unit to the left of the one you are given.)
So the alcohol is straightforward: HO-CH2CH2-OH.
The acid will have an -OH group attached to each C=O bond: HOOC-COOH.
Or, if you choose to draw an acyl chloride: ClOC-COCl.